Visit to Courmayeur and SkyWay
Friday 4 June
Departure at 08:30, rendezvous at 14:30

Skyway Mont Blanc
Skyway Mont Blanc is not only a cable car to get to 3,466 meters. It is an idea: to bring man closer to the mountain and the sky, broaden horizons and cross borders. Panoramas to explore and the sky to meet.
Departure 8:30 am from Aosta, arrival in Courmayeur (Sky Way) 9:30.
Sky Way cable car cost: Courmayeur - Punta Helbronner euro 52,00
Sky Way cable car cost: Courmayeur - Punta Helbronner + LUNCH euro 69,00
 12:30 hours ( for those who don't have lunch at Punta Helbronner ) departure from Piazzale  Sky Way cable car to Courmayeur centre walk.
For those who have lunch at Punta Helbronner departure from the square  Sky Way cable car at 14:00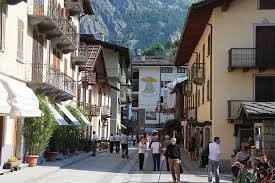 Courmayeur
Courmayeur is an alpine resort in north-western Italy, at the foot of Mont Blanc. It is known for the SkyWay Mont Blanc cable car, which offers views of the peaks of Monte Cervino and Monte Rosa. The Saussurea Alpine Botanical Garden is home to medicinal and high-altitude plants, as well as an example of Alpine pastureland. In the village, the Duca degli Abruzzi Alpine Museum documents the history of mountain guides with photos and climbing equipment.
Departure  for Aosta around 14:30
Costs: euro 10,00 per person.
Costs are not included:
Sky Way cable car ticket
Restaurant lunch or packed lunch
Visits for a fee,  tastings or lunch are not compulsory.
Reservations: Booking Rete Turismo info: Tel: +39 3395443364
Bookings close at 7.00 p.m. the previous evening.
It should be noted that the costs for the tastings and for the purchase of entrance tickets to the Castles or Museums remain entirely at the expense of the tourist.
Paying visits and tastings are not mandatory.
Book now
Enter the name, surname and telephone number of the people you are transporting. The telephone number is used by the driver to contact the customer in case of need.